Palika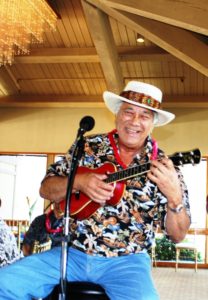 Born and raised on the island of Oahu, Pat (Palika, in Hawaiian) is a master of Hawaiian ukulele.  Pat is a highly requested Ukulele player in Los Angeles. He has performed professionally throughout the United States as a live entertainer, studio vocalist, and musician. He has performed onstage at concerts in Hawai'i, Japan, and throughout the mainland United States.  As a solo entertainer or with one of several musical groups with which he appears regularly, Pat headlines at restaurants and nightclubs and has performed at hundreds of weddings, anniversaries, birthdays, retirement parties, luaus, corporate events, and other special occasions.
The Hawaiian term, nahenahe (pronounced nah-hey-nah-hey), means soft, sweet, and melodious.  Pat can help to infuse your special day with romance and South Seas island magic through his playing and singing of traditional and contemporary island tunes rendered with feeling, in the nahenahe style. Contact us for rates and availability.
SONG LIST
Beautiful Kauai                                                Minoe Minoe/Siwa Siwa
Beyond the Reef                                              My Yellow Ginger Lei
Boy From Lapahoehoe                                   Naka Pueo
Blue Hawaii                                                      Nani Waimea
China Town                                                      One Paddle Two Paddle
Crazy                                                                  Opihi Man
For You a Lei / Blue Lei                                 Pauoa Liko Kalehua
E Huli Makou                                                   Pearly Shells
E Kuu Morning Dew                                       Pua Lili Lehua
E Naughty Naughty Mai Nei                         Pua Mana
Everybody's Talki'n                                         Pupu Hinu Hinu/Maile Lei
For You a Lei / Blue Lei                                  Royal Hawaiian Hotel
Girl From Ipananema                                      Sivasiva Maia/Minoe Minoe
Hanalei Moon                                                    Somewhere Over the Rainbow
Haleiwa Hula                                                     Sophisticated Hula
Hano Hano Hanalei /  Hilo March                South Sea Island Magic
Hawaii Aloha                                                      Suzy Ana E
Hawaiian Hula Eyes                                          Sweet Leilani
Hawaiian Wedding Song                                  Sweet Singing Bamboo
Hele On To Kauai                                               Sweet Someone
Henehene Kou Aka                                            Te Manu Pukarua/Vini Vini Vana Vana
Hi'ilawe                                                                Tiny Bubbles
Hilo                                                                        Ukulele Lady
Honolulu I Am Coming Back Again                Ulili E
Hukilau                                                                  Ulupalakua
I'll Remember You                                              Waihui O'ke Aniani
I'm Confessi'n                                                      Waikapu
I'll Weave A Lei of Stars                                     Waikiki
In A Melo Tone                                                    Waimanalo Blues
I'm Going To Maui Tomorrow / I Love a Pretty Maui Girl / Maui Boy
Kanaka Wai Wai                                                Watch What Happens
Kapua                                                                   White Sandy Beach
Kaula 'ili                                                               Yellow Bird
Kona Kai O'pua
Keep Your Eyes on the Hands                        Hawaii Calls
Lahaina Luna                                                      Bye Bye Blues
Lovely Hula Hands
Kiss Me Love
Leinani
Leimomi
Little Brown Gal
Little Grass Shack
Luau Hula
O'Makalapua
Maori Brown Eyes
Mele kalikimaka
Review of Palika
Simply the best in charm, class, and cultural experience.
 "His voice, music and presentation was warm, intimate, and uplifting. He is a very charming presenter with a commanding presence. Also, his musical catalog goes long and deep — with his uncanny ability to blend timeless Hawaiian standards with today's island hits. Such a gentle giant of a man who made what could've been a somber day, an unforgettable celebration of life!"