Auntie Geri and Carole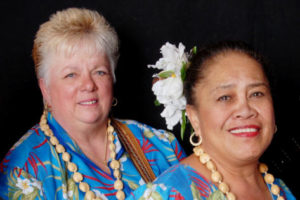 Auntie Geri was born and raised in La'ie, O'ahu and is 100% Hawaiian. She has an amazing voice and is well suited to the traditional Hawaiian music she loves to sing. She is known as "Songbird" everywhere she performs. She has had the opportunity to sing with top name recording artists such as Auntie Genoa Keawe, Al Harrington, Poncie Ponce, Uncle Joe Keawe, and even once with Elvis Presley. She toured Japan with Danny Kaleikini, Aaron Sala, and a host of other entertainers. Auntie Geri sang for many years at the Merrie Monarch hula competition in Hilo, Hawaii, for Sissy Kaio's halau.

Auntie Carole was born and raised in Southern California and is Hawaiian at heart. She lived for a while in Anahola, Kaua'i. Carole danced hula as a teenager, then taught herself how to play guitar and bass, and started playing Hawaiian music with Bill Kamaka and his Hawaiian group at 20 years old. Carole put together a Hawaiian Floor Show and band and toured the states for a while, then with her all female touring Top 40 band, Sassafrass. Through the USO she toured Viet Nam in 1970 performing 35 shows for our service men and women. She has played with many nationally known hula studios, (halau), including Moku Yoshikawa, Kanani Kalama, Auntie Noelani McIntosh, Kaiolani Bosque, Portia and Pete Seanoa (Tiare Productions).  
SONG LIST
A Part of Me, A Part of You
Achy Breaky Heart
Akaka Falls
Alekoki
All About the Bass
Aloha Hawaii Kuu One Hanau
Aloha Kaua'i
Aloha No
Aloha No Kalakaua
Aloha Oe
Baby Blue
Beautiful Kauai
Before the Next Teardrop Falls
Beyond the Reef
Blue
Blue Darling
Blue Eyes Crying' in the Rain
Blue Hawaii
Butterflies
Can't Help Falling in Love
Choto Mate Kudasai
Crazy
Dahil Sayo
Diggie Liggie
E Hoi I Ka Pili
E Huli Makou
E Ku'u Lei
E Ku'u Lei, E Ku'uipo
E Ku'u Morning Dew
E Naughty Mai Nei
E Pili Mai
Echoes of My Mind, Yellow Bird
Ei Nei
Flying
For the Good Times
Funny Face/Can I Have This Dance
Grandpa
Green Carnation
Green Rose Hula
Haleakala
Haleakala Hula
Haleiwa Hula
Hanalei Moon
HanoHano Hanalei
Hanohano Ka Lei Pikake
Hanohano Kekaha
Haole Hula
Have I Told You Lately That I Love You
Hawaii Aloha
Hawaiian Lullabye
Hawaiian Hospitality
Hawaiian Hula Eyes
Hawaiian War Chant
Hawaiian Wedding Song
He Aloha Ku'uipo
He U'i
Help Me Make It Through the Night
Hene Hene Kou Aka
Hi'ilawe
Honolulu City Lights
Honolulu I Am Coming Home Again
Hukilau
Hula Lolo/Show Me How to do the Hula
Hula O' Makee
Hula Oni Oni E
I Got Hooked at a Hukilau
I Kona
I Love a Pretty Maui Girl
I Miss You My Hawaii
I Will Remember You
I'll Remember You/A Maile Lei for Your Hair
In A Little Hula Heaven/Singing Bamboo
In Dis Life
In Your Hawaiian Way/All of Me
Island Style
Ka Ipo Lei Manu
Ka Lehua I Milia
Ka Makani Ka Ili Aloha
Ka Pilina
Ka Uluwehi O Ke Kai
Kaimana Hila
Kaimu
Kaulana Ni'ihau
Ke Alaula
Ke Aloha
Keep Your Eyes on Her Hands
KHBC
Kila Kila O Maui
Kimo Hula
Kipahulu
Kipuka
Koali
Koke'e
Kona Moon
Ku'u Hoa
Ku'u Home O Kahalu'u
Ku'u Lei Hulili
Ku'u Pua I Paoakalani
Lahaina Luna
Lahela Ku'u Poki'i
Lehuanani
Lei Ho'oheno
Lei Nani
Little Brown Gal
Little Grass Shack
Lovely Hula Hands
Lovely Way to Spend an Evening
Mai Ho E'u E'u
Makakilo
Makee Ailana
Malie's Song/Hawaiian Lullabye
Mauna Loa
Mauna Leo
Mele Ohana
Miloli'i
Moanike'ala
Muliwai
My Friend
My Isle of Golden Dreams
My Sweet Pikake Lei
My Yellow Ginger Lei
Na Vaqueros
Nani
Nani Kaua'i
Nani Ko'olau
Nani La'ie
Nani Venuse
No Ka Pueo
Noho Paipai
Okie From Muskogee/Snowbird
Opihi Man
Out On The Beach at Waikiki
Papalina Lahilahi
Pauoa Liko Ka Lehua/Alika
Please Release Me/It Won't Be the Same Medley
Pohai Kealoha
Pua Ahihi
Pua Carnation
Pua Lili Lehua
Pua Lilia
Pua Mana
Pua Olena
Pueo I Ka La'i
Punalu'u
Quando Quando
Right or Wrong
Route 66
Sabor A Mi (Be True to Me)
Sanoe Medley
Somewhere Over the Rainbow
Song of Old Hawaii
Sophisticated Hula
Summertime
Sweet Memories
To You Sweetheart, Aloha
Ukulele Lady
Ulupalakua
Unchained Melody
Wahine Ilikea
Waika
Waikaloa
Waikiki
Waikiki Hula
Waikiki/Ku'u Sweet Memories/Ku'uipo I Ka He'e
Waimanalo Blues
We're Having a Lu'au
White Sandy Beach